During our monthly "Community Day", our scholars gather to have fun, connect and receive education in a specific area of focus. The monthly themes tap into political, personal, academic, and creative areas that push our scholars into new spaces and places. This is an effort that has been successful in deepening our scholar's connection to the work we do. ​
We celebrate Black History Month to recognize the sacrifices, contributions, and achievements of Black people in the United States and across the diaspora. We celebrate the the ever-changing way they worked to create a better world for all of us and reflect on those who took a stand to even allow us to have that chance. An examination of the past can also offer a better understanding of current events and visualize the future.
In honor of Black History, our residential counselor Mamadou Dansoko organized a community event celebrating black ingenuity, creativity, and innovation by highlighting historic Black inventors.  The scholars took part in a program called "Revolutionary Inventors." The scholars were tasked with identifying the history of everyday items that were brought to us by black thought leaders. The scholars learned about the work of Lewis Howard Latimer, Madam CJ Walker, Marie van Brittan, Garrett Morgan, and many other prominent historical figures. The game room at Lasalle Hall was adorned with black & gold trim with a stage & projector in the front of the room. Scholars were also given a showcase space to to preform their art pieces in front our community. 
"In a program full of African American, Hispanic, and other minority scholars, it is important for our scholars to recognize the contributions our black culture has made throughout history. As a staff at Boys Hope Girls Hope it is our duty to ingrain that history within our scholars and provide them a platform to create and show artistic expressions."
At Boys Hope Girls Hope, we're passionate people from all walks of life united as One Team One Mission. The strength of our Network is in our diversity, and in the amazing depth of potential within each individual. Built into our DNA is a commitment to family-like settings that create a sense of belonging. That means valuing connection, listening, validating, seeking to understand, and building trust. And because more than 90% of our scholars, collegians, and alumni are people of color, we are committed to assembling teams and boards that represent the  communities of young people we serve. Their safety, well-being, experiences, and opportunity are intrinsic to the pursuit of our mission. As we invest in each scholar and team member, we are also working to expand cultural fluencies that support a world where access, equity, and inclusion are afforded to all.
BOYS HOPE GIRLS HOPE – DIVERSITY, EQUITY AND INCLUSION STATEMENT
Naaman West, BHGHNY class of 2023, performs his original spoken word piece "Blueprint" in front of the community.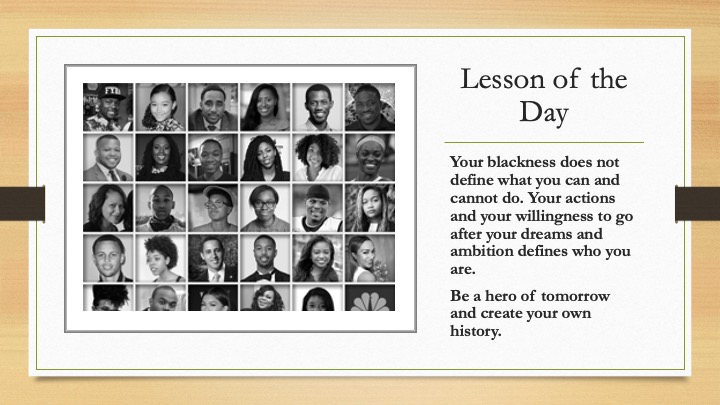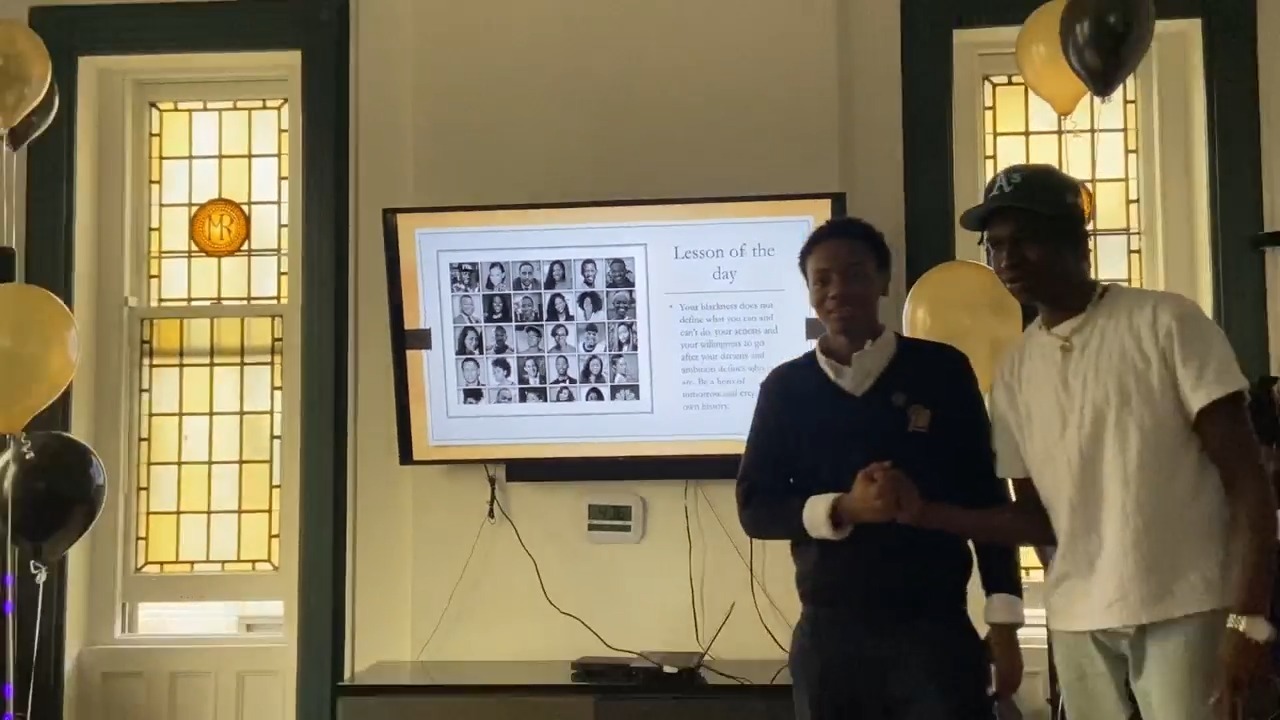 Naaman with Mr. Dansoko after performing